10 Mystery Movies to Watch if You Liked 'A Haunting in Venice'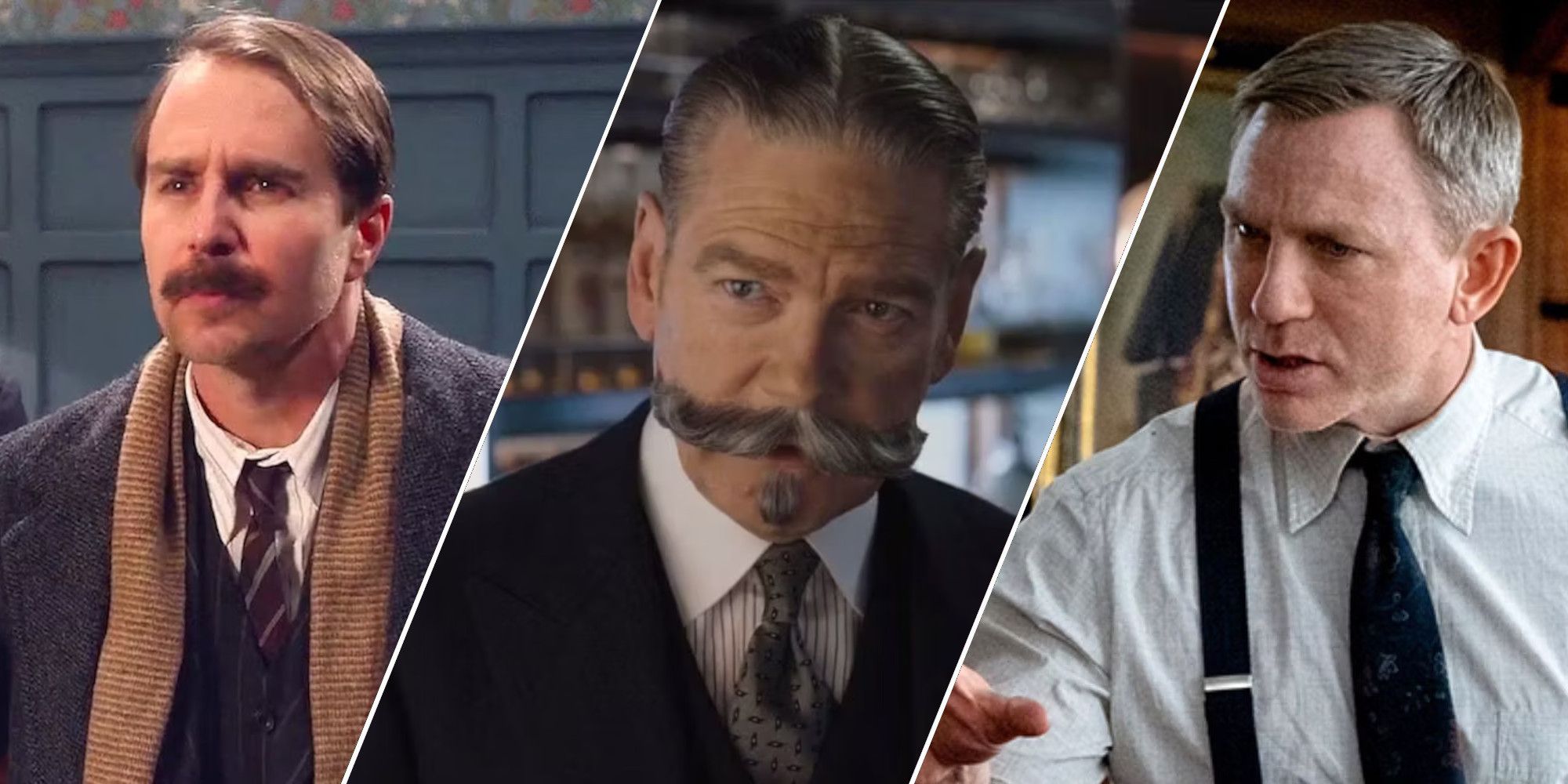 A Haunting in Venice is the latest Hercule Poirot murder mystery film from director Kenneth Branagh, and sees a new retired Poirot in exile in Venice, yet reluctantly attends a Halloween séance at the request of a long-time friend. However, when one of the esteemed guests at the party is murdered, Poirot forces himself out of retirement in order to solve the mystery at the center of their mysterious murder.
A Haunting in Venice is sure to scratch an itch for lovers of murder mysteries and whodunits, yet it is far from the only recently released film that is able to satisfy those looking for a good mystery. There have been a multitude of masterfully crafted and unpredictable mysteries to be released in recent memory that are sure to fulfill the needs of anyone getting into a modern mystery craze after watching A Haunting in Venice.
10
'Murder on the Orient Express' (2017)
The first in Branagh's trilogy of Poirot films, Murder on the Orient Express sees the genius Belgium detective as he investigates the murder of a powerful American tycoon. However, as nearly everyone on the train had a motive to murder the tycoon, Poirot will have to race against the clock and find the culprit before the Orient Express train stops at its final station.
RELATED: From Kenneth Branagh to David Suchet, Every Live-Action Hercule Poirot, Ranked
Branagh's initial portrayal and adaptation of the classic Agatha Christie character proved that he had what it takes to transform the character for modern audiences. Both in his directing style surrounding the character and the world of murder mysteries, as well as his now iconic performance and portrayal of Poirot, which he has arguably become synonymous with. Murder on the Orient Express is one of if not the most iconic Poirot mysteries out there, so especially for those who are only now starting the films with A Haunting in Venice, Murder on the Orient Express is a perfect next watch.
9
'Death on the Nile' (2022)
The second film in Branagh's Poirot trilogy, Death on the Nile sees the famous sleuth on an Egyptian vacation aboard a glorious and high-class river steamer across the Nile River. His vacation soon transforms into anything but relaxing when a couple's perfect honeymoon is cut short by a murder aboard the boat, with Poirot once again on the case to uncover the murderer mastermind behind it all.
Compared to the other two films in Branagh's Poirot trilogy, Death on the Nile is the most straightforward and easy to follow, as its twists and turns are much more in line with a standard murder mystery. However, this allows Death on the Nile to delve that much further into the intricacies and connections between all of its characters, allowing its initially simple mystery to be shrouded in that much more mystery. As A Haunting in Venice is technically the direct sequel, Death on the Nile makes for a great subsequent watch, even as a rewatch to pick up evolving intricacies of Poirot's character throughout the trilogy.
8
'Knives Out' (2019)
The iconic modern-day murder mystery from director Rian Johnson, Knives Out sees detective Benoit Blanc investigating the mysterious death of renowned crime novelist Harlan Thrombey. From every member of his dysfunctional and chaotic family to his resourceful and devoted staff members, everyone is on the table when it comes to who could be behind Harlan's death. Blanc must sift through the lies and deceit in order to find the truth at the center of it all.
Knives Out has quickly become the pinnacle and standard of what is possible from a modern-day whodunit mystery, as Johnson has woven together a brilliantly told tale of exceptional twists and turns. It is a film whose outstanding legacy will only continue to grow as the years go by as one of the most resounding and brilliant original whodunit stories created for film. Especially considering the numerous similarities between Benoit Blanc and Hercule Poirot, Knives Out is the perfect choice for those looking for more murder mystery greatness after A Haunting in Venice.
7
'Glass Onion' (2022)
Rian Johnson's follow-up to Knives Out, Glass Onion sees Benoit Blanc back on the case when he is mysteriously invited to Greece to attend a murder mystery party held by tech billionaire Miles Bron. Although, all the other guests have their own reasons to target Bron, it soon becomes apparent that Bron's life is in serious danger, and that Blanc must uncover the mystery of it all before it's too late.
RELATED: 15 Best Murder Mystery Movies to Watch Like 'Glass Onion: A Knives Out Mystery'
While the initial Knives Out already made a massive splash on release, Glass Onion was the perfect follow-up film that proved that it wasn't just a one-time fluke and that Johnson was here to stay in the world of whodunits. The film similarly touts an all-star cast playing a group of dysfunctional and conflicting personalities who all find themselves suspects in a high-stakes murder mystery. Much as how A Haunting in Venice used its status as a sequel to focus that much more on the mystery at hand, Glass Onion has similar strengths, making it a great parallel watch with Haunting.
6
'No Exit' (2022)
No Exit follows the story of Darby, a recovering attic who while stranded at a rest top in the mountains during a blizzard, discovers a kidnapped child hidden inside a car belonging to one of her fellow stranded companions. The discovery sets Darby on a terrifying and life-threatening struggle in her attempts to identify the kidnapper among them without getting caught in the process.
Similarly to A Haunting in Venice, No Exit takes a more horror/thriller approach to a murder mystery story, and while the crime at the center of the story may not be a murder, the film is still chock-full of twists and turns to keep audiences guessing throughout the entire runtime. The film also has a significantly smaller cast compared to most whodunits, fleshing out each possible suspect that much more, and allowing for even more powerful twists that come well after the audience has let their guard down.
5
'Bodies Bodies Bodies' (2022)
Bodies Bodies Bodies follows a group of 20-somethings who find themselves stuck at a remote mansion in the middle of a hurricane. When a party game goes wrong and a dead body is discovered among them, it doesn't take long before the entire group begins turning on one another in order to discover the culprit.
A Haunting in Venice experiments with horror elements in a whodunit story, while Bodies Bodies Bodies fully embraces these horror elements alongside a whole collection of comedic elements. The result is a hilariously strange mixture that works perfectly for the context of the film, and while far from a standard whodunit procedure, the climax and resolution are perfectly in tune with the rest of the film.
4
'Invitation to a Murder' (2023)
Invitation to a Murder sees the story of a reclusive billionaire who invited six seemingly random strangers to his island estate in the south of England. When guests to this party mysteriously end up dying, it becomes up to aspiring detective Miranda Green to get to the bottom of the murders, as well as the reasoning behind their gathering in the first place.
RELATED: 10 Best Underrated Whodunit TV Shows Of The 21st Century
Invitation to a Murder shares a lot of DNA with the classic Poirot stories of old, with the main character Miranda Green even namedropping Poirot as an inspiration during the first act of the film. It features a cast of varying high-class individuals who are all equally suspects in a mysterious story of murder and betrayal, with numerous secrets being revealed as a result of murder investigations. The numerous twists and turns, in combination with its charismatic lead characters, make Invitation to a Murder a great subsequent watch to A Haunting in Venice.
3
'The Translators' (2019)
The Translators is a French mystery film that follows a group of nine translators who are all hired to translate an eagerly awaited final book in a bestselling trilogy in their own individual languages. The book's high demand and secrecy are of such importance that the group is forced to do their work hidden underground in a luxurious bunker over the course of two months. However, when an anonymous hacker claims to have stolen the book and plans to leak it online unless they receive financial compensation, it soon becomes chaos in the bunker as the search for the leaker goes underway.
The Translators proves that even without a direct murder at the center of a murder mystery story, it's still possible to have a highly engaging and tense story with high-stakes and unpredictable twists. The film features an amazing and colorful main cast, each with their own quirks and reasons for wanting to write and translate in the first place (the film even shares casting with A Haunting in Venice with the actor Riccardo Scamarcio). If they are able to get past the hurdle of the French language and subtitles, The Translators is sure to pleasantly surprise any and all whodunit fans.
2
'See How They Run' (2022)
See How They Run follows the story of the world-weary Inspector Stoppard and his eager rookie Constable Stalker as they take on the case of a murdered member of a smash-hit play's crew. The quirky duo gets into a variety of shenanigans and misunderstandings on their quest to discover the culprit of the mysterious homicide at the center of their mystery. They soon enough become so involved with the case that their own lives are in danger at the hands of the mysterious culprit.
Similarly to A Haunting in Venice, See How They Run is a whodunit that features an all-star cast, centering around a primary detective and his increasingly concerning devotion to his role as a detective. While See How They Run may have a much more comedic angle than A Haunting in Venice's horror angle, both films surprisingly tackle a high number of similar themes and messages at their cores. See How They Run also directly involves the stories and legacy of Agatha Christie herself, as a version of her even plays a major part in the film's climax.
1
'Werewolves Within' (2021)
Werewolves Within follows the story of a newly employed forest ranger who is tasked with keeping the peace after a snowstorm confines the small town community into a single old-time lodge. The night soon takes a turn for the dangerous when a mysterious creature begins terrorizing the group, with it soon becoming apparent that the creature is in fact a werewolf, and could be any one of the townsfolk.
Werewolves Within takes a similar horror movie approach to its whodunit story, although while A Haunting in Venice goes for a more supernatural ghost story approach, Werewolves Within takes inspiration from creature features and slashers. Combined with a more comedic and non-serious angle, the result is a resoundingly fun time that continues to leave a lasting impression well after the credits have rolled. While Sam Richardson's Ranger Wheeler may not be what audiences first think of when they consider a whodunit protagonist and lead detective, he works perfectly in the world of Werewolves Within and is a perfect parallel to icons such as Hercule Poirot.
NEXT: The 10 Best Horror Movies To Watch in September 2023