Best Hybrid Cameras for Photography and Video in 2023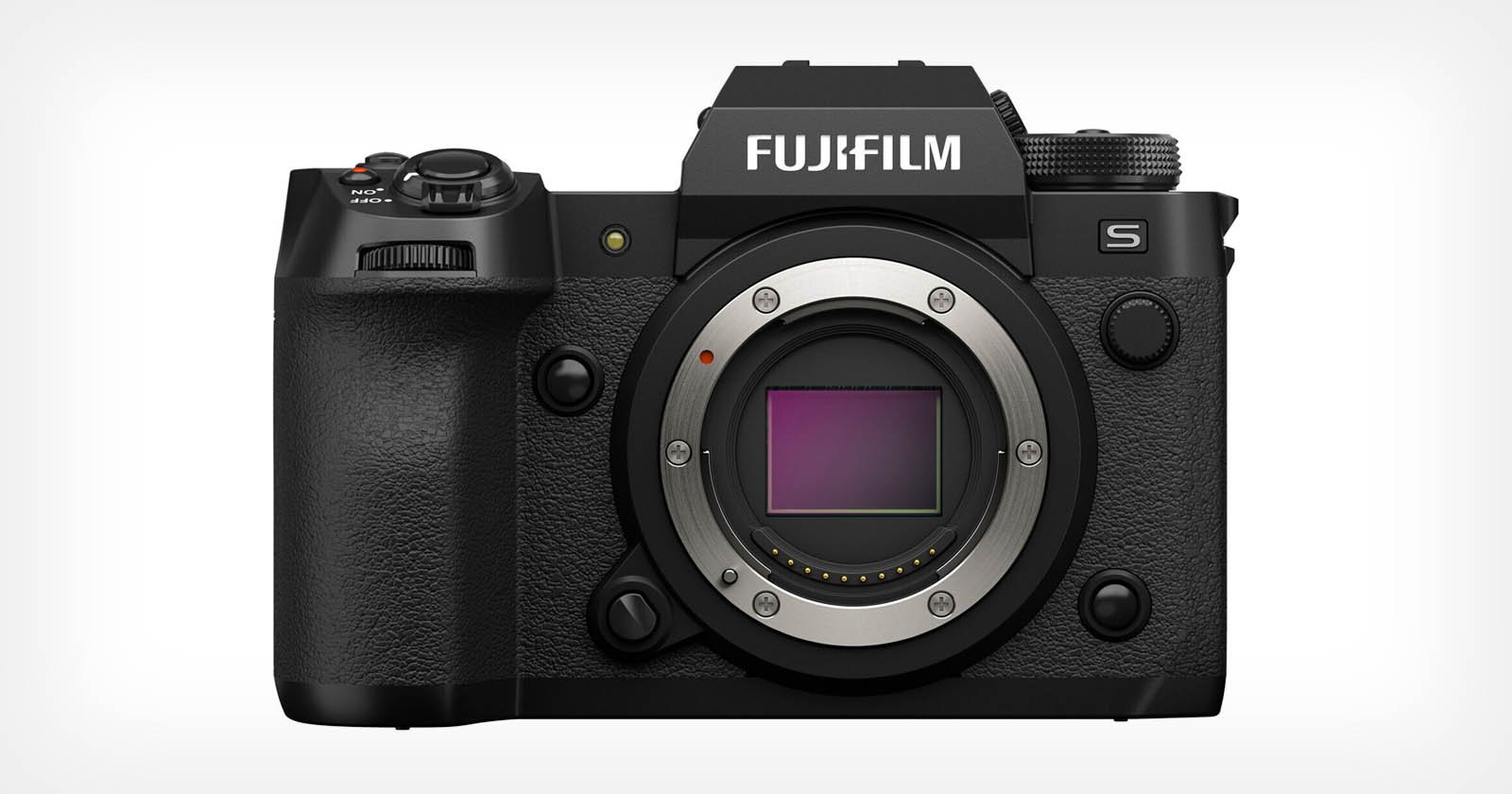 We don't often extensively cover video gear here at PetaPixel, but we thought it might be helpful to cover some of the best hybrid cameras out there — those cameras geared toward both photographers and videographers.
With the nearly industry-wide move away from DSLRs and over to mirrorless have also come significant advancements in video technology and performance in camera bodies that are traditionally stills oriented. More and more people are interested in shooting video — whether it's vlogging or filmmaking or something else — and more and more professionals are juggling jobs as both photographers and videographers.
As such, we wanted to put together a list of cameras that best suit the needs of such users.
What We're Looking For
There are a number of things to consider in a list like this, which is always inherently quite subjective. First, we have approached this list from the perspective of users who do a relatively even balance of photography and video work — the choices need to excel fairly equally as stills cameras and as video cameras. Therefore, while some cameras are technically hybrid, like the Panasonic Lumix S1H or Canon R5C, these were disqualified because they are overwhelmingly geared more toward video users than photographers.
So, we are looking at just about every aspect you want in a good hybrid camera for each category. For video, we want cameras that excel in image quality, bit-depth, bitrate, codecs, inputs and outputs, filmmaking tools like shutter angle or false color, autofocus, rolling shutter, etc. For stills, we are looking for things like dynamic range and overall image quality, autofocus performance, build and ergonomics, frame rates, and all the other features that we shutterbugs love. And naturally, price and other factors like the native lens ecosystem play a considerable role.
So, here are our picks for the best hybrid cameras currently on the market, broken down into seven categories.
At a Glance
Best Overall Hybrid Camera: Fujifilm X-H2s
Fujifilm's flagship APS-C camera and long-awaited follow-up to 2018's X-H1 was released last year to much acclaim. The Fujifilm X-H2s sports a stacked sensor design — the first for an APS-C camera — with 26.1MP of resolution, and Fujifilm's proprietary X-Trans array, the X-H2s is a powerhouse camera. Thanks to the extraordinarily fast readout speed of the stacked sensor (1/180 of a second) and the new X-Processor 5, it can shoot 40 uncompressed RAW frames per second with continuous autofocus and without any EVF blackout for up to 140 RAW frames.
The X-H2s's body features a considerable grip, a PASM dial with seven custom modes, a 5.76m-dot OLED viewfinder with 0.8x (equivalent) magnification, vari-angle 1.62m-dot, 3.0" rear LCD, 1.28" top panel LCD, 5-axis IBIS rated for seven stops, dual card slots (one CFexpress Type B and one UHS-II SD), full-size HDMI Type-A port, USB 3.2 Gen 2 Type-C port, and a large NP-W325 battery that is CIPA rated for 720 shots in Economy Mode. An optional VG-XH Vertical Grip is available, as is the Fujifilm FAN-001 Cooling Fan, which helps cool the camera body to extend video recording time.
The camera's video capabilities are as impressive as its photo features, placing the X-H2s firmly in the hybrid category. Internal 10-bit 4:2:2 recording in DCI 4K at up to 120 fps (1080 HD at up to 240 fps), as well as 6.2K open-gate recording at up to 30 fps. The latter is a rather unique feature — Panasonic is the only other company that allows for open gate recording in its hybrid models. The X-H2s offers not only H.265 recording but also internal ProRes 422 HQ in both DCI 4K and open gate 6.2K. The camera's full-size HDMI port allows for external ProRes RAW and Blackmagic RAW (with appropriate recorder) output at various resolutions up to 6.2K. Fujifilm also debuted its new F-Log2 gamma curve in the X-H2s, which supports higher dynamic range and is particularly conducive to filmmaking and HDR video.
Uniquely, the X-H2s allows users to select either 14-bit or 12-bit readout when shooting video (F-Log2 is only available with 14-bit). And thanks to the camera's stacked sensor, DCI 4K reads out at an astonishing 9.5ms in 14-bit mode and an even better 5.5ms in 12-bit, while open gate 6.2K is around 11.5ms in 14-bit mode. These are among the best rolling shutter values of any camera — hybrid or otherwise.
The Fujifilm X-H2s has it all – excellent image quality, robust build, excellent ergonomics, superb autofocus tracking and shooting speeds, and some of the best video specifications of any hybrid camera. While it isn't full-frame, Fujifilm does have the best line-up of APS-C lenses – both Fuji branded and third-party – and its APS-C sensor closely mirrors the Super 35 film/sensor size traditionally used in filmmaking. It is also significantly cheaper than any stacked-sensor full-frame camera, making it the best all-around option for most users.
PetaPixel's review of the Fujifilm X-H2s can be found here.
Best Full-Frame Hybrid Camera: Nikon Z8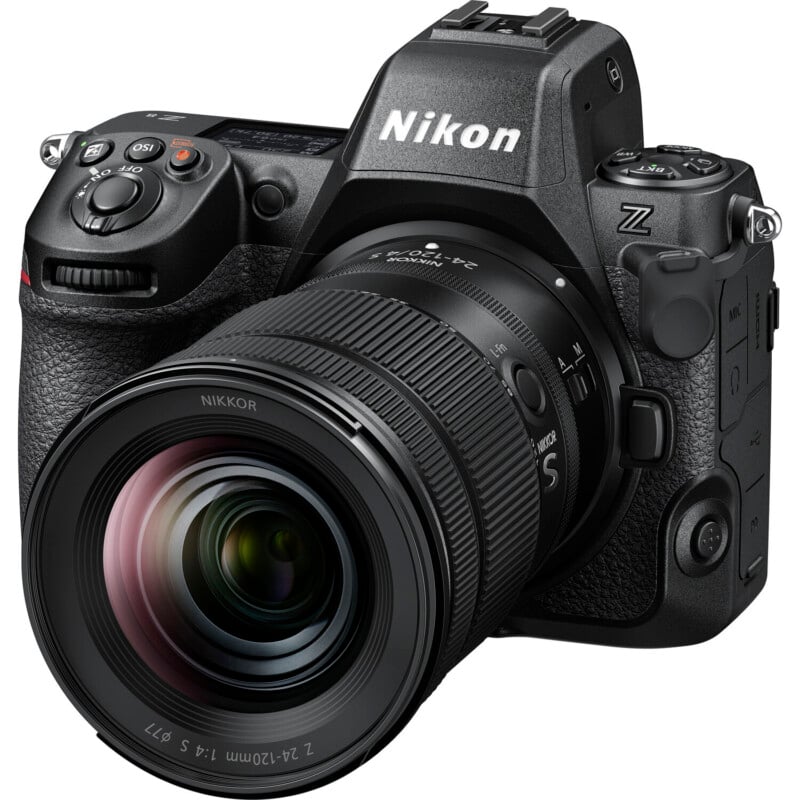 Nikon is far from the first name anyone thinks of when it comes to video — until the Nikon Z6 and Z7, no one really would have thought of any of its cameras as true hybrids. And yet, the Nikon Z8 is one of the best cameras you can buy, no matter what you intend to do with it. Essentially a smaller version of the Nikon Z9 (but $1,500 cheaper and 30% smaller), it is also the most affordable camera on the market with a full-frame stacked sensor — the next non-Nikon option is $2,000 more expensive. There is almost nothing the Nikon Z8 doesn't excel at; landscape, portraiture, sports, wildlife, you name it, it can do it. It's also one of the most feature-rich hybrid cameras ever made for video work.
The Nikon Z8 features a 45.7MP BSI stacked sensor with the fastest readout of any interchangeable lens camera at 1/270th of a second, which allowed Nikon to do away with the mechanical shutter completely. The body features a robust grip and larger profile than many other mirrorless cameras, making it handle somewhere between a mirrorless camera and a DSLR. The Z8 also boasts a 3.2" 4-axis tilting touchscreen with 2.1m-dots, top panel status display, one CFexpress Type B and one UHS-II SD card slot, backlit buttons, a full-size HDMI Type-A port, and two USB-C ports (one for file transferring and tethering and one for battery charging and power delivery). One of the USB-C ports also supports USB-LAN connectivity when paired with a USB-C to Ethernet adapter for file transferring over FTP.
Full-resolution lossless compressed RAW is available at 20 fps — 30 fps for JPEGs — for up to 1,000 frames, giving the camera a virtually unlimited buffer, up to 60 fps in DX crop mode (19MP), and 120 fps at 11MP — all with full autofocus and autoexposure performance. The Z8 also introduces pre-release capture, which commences burst shooting when the shutter button is half-pressed, and the buffer will continuously retain up to one second's worth of frames prior to fully pressing the shutter button — this is great for sports and wildlife shooters who are anticipating an action but don't know when it will happen. I love the feature on my OM System OM-1 for wildlife photography.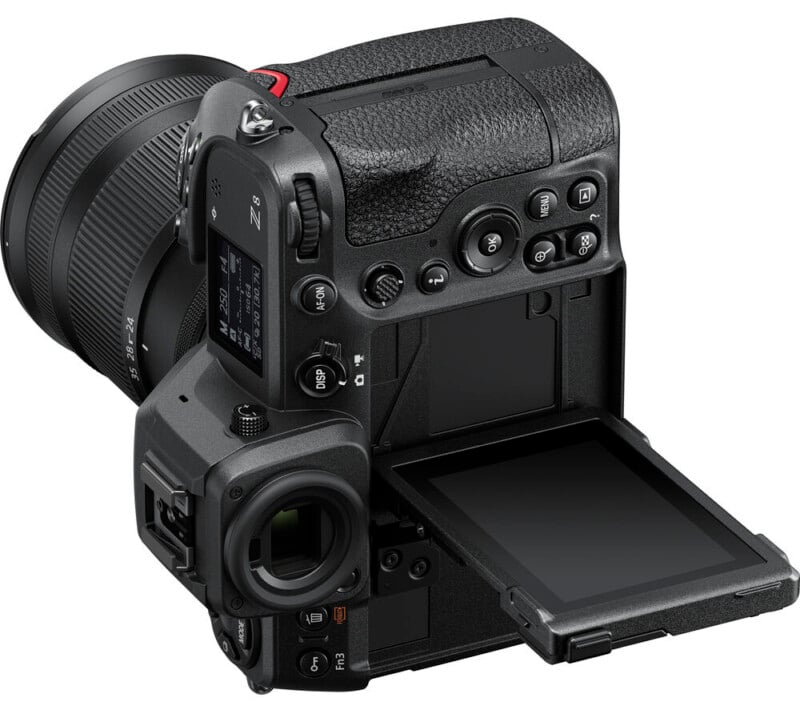 On the video front, the Nikon Z8 does not disappoint, with video specifications unmatched by any other hybrid camera on the market. Full pixel readout allows for 8K UHD video at up to 30p, and sub-sampled 4K UHD is available up to 4K 120p, both in 10-bit 4:2:0 H.265. ProRes RAW HQ is also available (internally!) at sub-sampled 12-bit 4.1K (up to 60p) or full pixel readout 5.4K (up to 30p, APS-C crop). Finally, Nikon's 12-bit N-RAW allows for 8.2K at up to 60p, 5.4K APS-C crop up to 60, sub-sampled 4.1K up to 120p, and UHD 4K at 120p with a 2.3x crop. N-Log gamma is available in all modes and codecs except for H.264, and Hybrid Log Gamma is available in H.265. While the Z8 can't record RAW video for the whopping 2 hours and 5 minutes of its bigger brother, it is still capable of a very respectable 90 minutes. I suspect using the Nikon MB-N12 Vertical Grip would extend this somewhat, as might your shooting environment.
The Z8's 493-point phase detection autofocus — which can focus down to -9 EV (with an f/1.2 lens) in Starlight mode — combined with its stacked sensor and new EXPEED 7 processor make the Z8 one of the best-performing cameras on the market for autofocus speed, tracking, and accuracy.
There just isn't much to complain about here. Some critics complain about the 3.69m-dot EVF, which is lower resolution than the EVFs of many other high-end cameras, but Nikon's EVFs are as good as any I've used. The EVF is crystal clear with a high 0.8x magnification and is always at its highest resolution and magnification no matter what — many other cameras, like the Sony Alpha 1, drop their resolution and magnification at higher frame rates, making the reported specs mostly applicable only to playback and menu.
In short, you simply can't go wrong here. At its unbeatable price point of $3,999 (given its specifications), high resolution, low native ISO of 64, high dynamic range, exceptional performance, and unmatched video features, it is the clear pick for the best full-frame hybrid camera.
Best Budget Full-Frame Hybrid Camera: Panasonic Lumix S5 II or S5 IIx
Panasonic didn't come to play when it released its second generation of the popular Panasonic S5 cameras. One of the highlight features of the new Panasonic S5 II was the completely revamped autofocus system, which, for the first time in a Panasonic camera, finally features phase detection autofocus. And Panasonic's first outing with PDAF was no smaller success — it's genuinely excellent, rivaling Canon, Sony, and the Nikon Z8/Z9 in many situations.
The Panasonic S5 II features a 24.2MP BSI full-frame sensor, 779 phase detection autofocus points, up to 30 fps full-resolution shooting with the electronic shutter, a 3.68m-dot OLED EVF with 0.78x magnification, 3.0" 1.84m-dot vari-angle touchscreen, dual UHS-II SD card slots, full-size HDMI port, and 5-axis IBIS rated for up to 6.5 stops when using Dual I.S. 2 with appropriate lenses.
On the video side, open-gate 6K 10-bit 4:2:0 recording is available up to 29.97p, 6K and 4K DCI, 4K APS-C crop up to 59.94p, and 3.3K APS-C anamorphic up to 50p are available internally in H.265 and H.264. Gamma curves like V-Log, Hybrid Log Gamma, and Cinelike D2/V2 are available, with V-Log featuring dual native ISOs of 640 and 4000. Other unique video features like shutter angles, vectorscopes, waveforms, and anamorphic desqueeze are also included. The camera also offers the ability to import LUTs (Look Up Tables) in the industry standard .cube format, which can be used only for preview or applied directly to the recorded footage.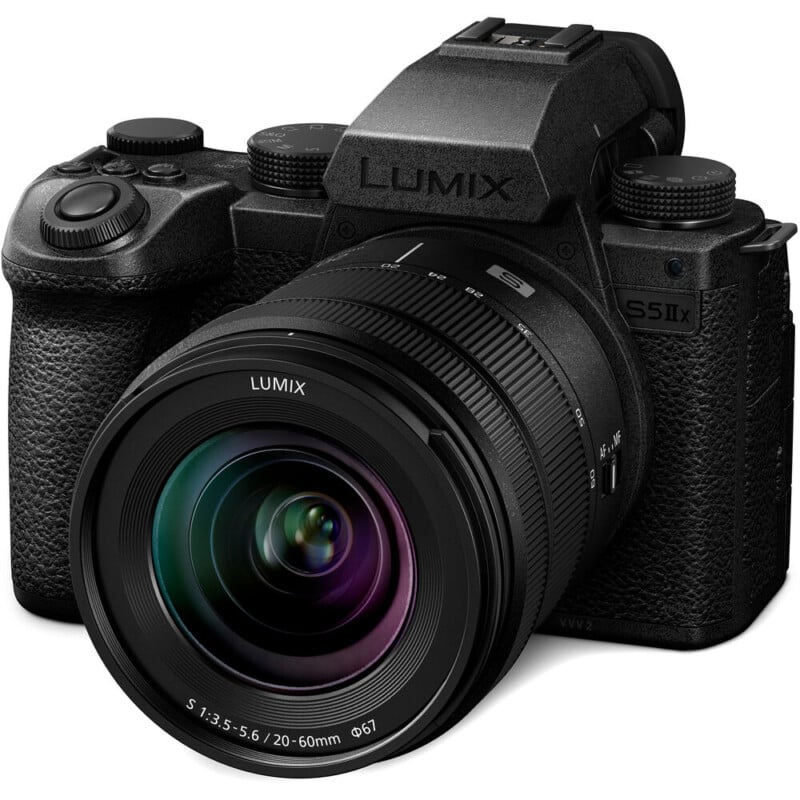 The Panasonic S5 IIx, which runs $200 more than the regular S5 II, adds RAW video output via HDMI, internal ProRes capture (422 and 422 HQ), direct recording to an external SSD via USB-C and ALL-Intra codecs. While S5 II owners can purchase an upgrade for RAW video output, the upgrade costs the same as the difference between the S5 II and S5 IIx — if you want that or any of the other features the S5 IIx offers, just buy it.
Panasonic cameras have always been a great place to look for powerhouse hybrid cameras. However, the S5 II and S5 IIx up the ante by integrating PDAF and removing the issues that Panasonic's DFD autofocus presented.
Best Bang-For-Your-Buck Hybrid Camera: Fujifilm X-S20
Released earlier this year in March, the Fujifilm X-S20 stunned many with some rather unexpected features, particularly on the video front. The Fujifilm X-S10 was already an outstanding stills camera for its price point, so Fujifilm took things to the next level with the X-S20, making it one of the best budget cameras on the market.
The Fujifilm X-S20 features a 26MP X-Trans BSI sensor, 5-axis IBIS CIPA-rated up to 7 stops, a 3.0" fully articulating touchscreen with 1.84m-dots, 2.36m-dot OLED EVF, hybrid contrast and phase detection autofocus, a single UHS-II card slot, and a larger, upgraded battery which is CIPA-rated for 750 shots using the LCD. On the stills side, the X-S20 shoots up to 20 RAW frames per second with the electronic shutter (30 fps with a 1.25x crop). It has an excellent autofocus system thanks to the new X-Processor 5 and improved autofocus algorithm inherited from the Fujifilm X-H2s.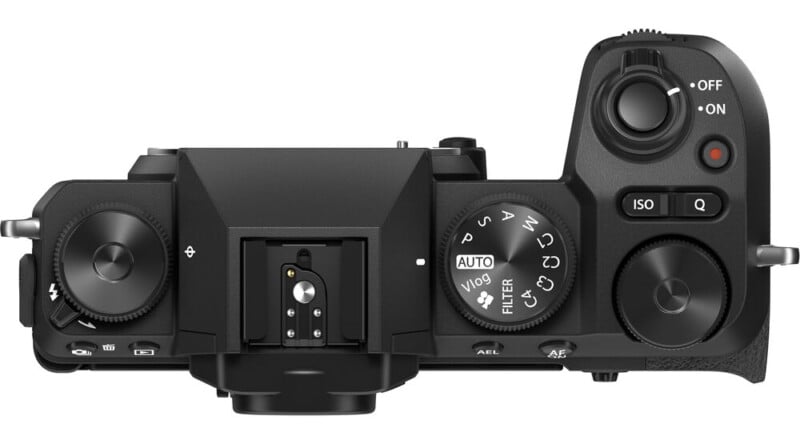 Video is where the X-S20 really surprises for the money. Internal H.264 ALL-Intra, H.264 Long GOP, H.265 ALL-Intra, H.265 Long GOP are all available in both 8 and 10-bit 4:2:0 and 4:2:2. DCI 4K is available up to 59.94p, along with DCI 2K and Full HD at up to 240p.
It doesn't end there. Unique to a camera at this price point, the Fujifilm X-S20 offers 6.2K open-gate recording up to 29.97p in various codec flavors. Furthermore, ProRes RAW and Blackmagic RAW output are available via HDMI — unfortunately, the camera only has a micro-HDMI port. Still, this is quite a feature at this price level! Fujifilm also includes the new F-Log2 gamma curve for maximum dynamic range, and the camera is compatible with the Fujifilm FAN-001 to extend video recording limits.
Best Hybrid Camera for Vloggers: Sony ZV-E10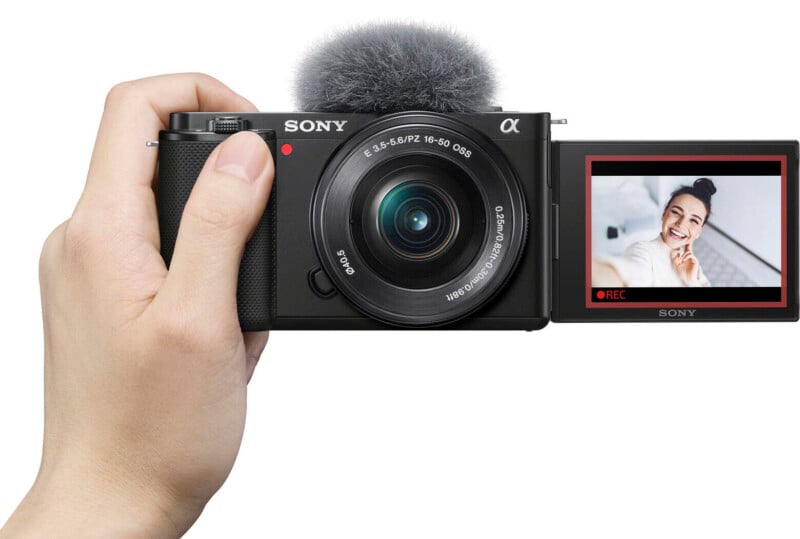 While many of the cameras on this list are focused on more serious video users — those making narrative, documentary, commercial, or other types of work — there is an ever-growing number of folks getting into vlogging. These cameras typically have different requirements from a camera like the Nikon Z8 — price and size perhaps being the two most important.
A great vlogging camera also requires excellent autofocus tracking, a flip-out LCD screen, a great selection of wider-angle lenses, and, ideally, some quality audio capabilities. In my opinion, things like a full-frame sensor and incredibly high dynamic range are of lesser concern, at least for most users.
The Sony ZV-E10 fulfills most of these requirements and, perhaps unsurprisingly, is explicitly built with vloggers in mind. Featuring a 24.2MP APS-C sensor, BIONZ X processor, and a 425-point Fast Hybrid AF system that covers 84% of the sensor field, the ZV-E10 is a vlogging powerhouse at only $698 for the body. Sony's Real-time Eye AF and Real-time AI tracking are one of the camera's best features, allowing users to focus on creating content without concern about whether the autofocus is keeping up. Real-time Eye AF can prioritize human and animal eyes and produce seamless, real-time focus on moving subjects.
Full pixel readout with 6K oversampling produces finely detailed 4K UHD footage with no recording limit. A special S&Q (Slow & Quick) mode lets users choose frame rates between 1 and 120 frames per second in 1080p Full HD. Both S-Log2 and S-Log3 gamma curves are available, as is HLG (Hybrid Log Gamma). The ZV-E10 also offers specialized video modes such as Product Showcase, which uses AI for smooth autofocus transitions between a subject's face and an object that's placed in front of the lens. Face-Priority AE (Autoexposure) smoothly adjusts exposure on a subject's face and is even able to avoid abrupt exposure changes if a subject quickly turns away from the camera. Refined color science is offered to optimize skin tones, and Soft Skin Effect can be engaged to soften and smooth wrinkles or blemishes on a subject's face — this effect can be tweaked to the user's preference.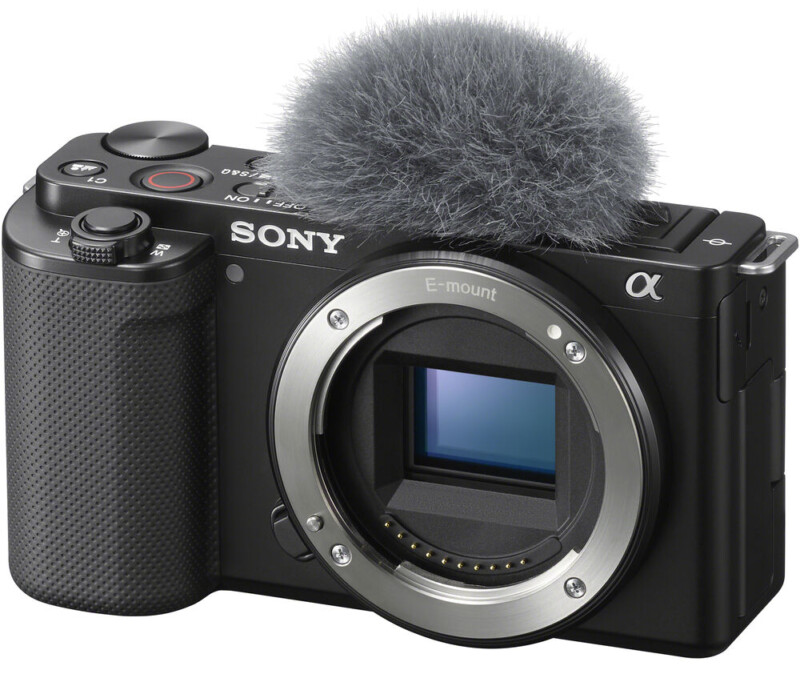 The ZV-E10 also features a 3-capsule directional mic integrated into its top plate, which is specifically designed for recording audio in front of the camera. The camera comes supplied with a windscreen for cleaner outdoor audio. A traditional 3.5mm mic jack and a headphone jack are also available for users who require more serious audio recording. The camera also sports Sony's Multi Interface Shoe, which supports certain digital audio devices for superior audio recording, such as the Sony ECM-M1 Compact Digital Shotgun Microphone.
A front tally light to let the user know they're recording and a USB-C port, which allows for live-streaming and tethering, round out most of the camera's main features.
On the stills side, the camera lacks nothing except an EVF — so all image preview and review must be done with the rear LCD. But the ZV-E10's 24.2MP APS-C sensor is a stellar performer, and the camera is capable of up to 11 fps in RAW. All of the features available for video, such as Real-time Eye AF, are also available when shooting stills.
Sony also offers a quite robust selection of APS-C lenses — the best outside of Fujifilm — especially with the many third-party offerings. The Tamron 11-20/2.8 Di III-A RXD (16-25mm FF-equivalent) is an excellent option for vloggers needing a fast wide-angle lens, and the Sigma 18-50/2.8 DC DN Contemporary (27-75mm FF-equivalent) is a fantastic, lightweight normal range zoom for Sony APS-C cameras.
Best Hybrid Camera for Low Light: Sony Alpha 7S III
Sony's Alpha 7S line has always been geared toward video users, with the low-light capabilities being touted in particular. The Sony Alpha 7S III followed in the footsteps of its predecessors with a 12MP full-frame sensor, though this time, it uses a 48MP BSI quad-Bayer sensor with 2×2 binning for improved dynamic range. 12 megapixels may not seem great these days for stills shooters, but it is enough for those who only post online or don't need super large prints with ultra-fine detail. I still have and occasionally use my Nikon D700 and Nikon D3 (also 12MP), and I have taken some of my best photos with that camera.
The lower megapixel count has several advantages, most notably the sensor's extremely fast readout speed, which allows for 4K at up to 120 frames per second, making this the only full-frame hybrid camera to shoot 4K at 120fps without a crop. The fast readout also enables the camera to produce the lowest rolling shutter of any full-frame hybrid camera on the market at under 9ms, and the large pixels also make the camera a low-light beast. The Alpha 7S III, like many of today's cameras, features a dual gain sensor, with the first base ISO at 640 and the second base ISO sitting at a staggering ISO 12,800 in S-Log2 / S-Log 3; in Hybrid Log Gamma, those values are ISO 100 and ISO 2000. As far as stills photography goes, the camera has a base ISO of 80 with a second gain at ISO 1600.
Most excitingly, the dynamic range at ISO 12,800 is virtually the same as the dynamic range at ISO 640. Though some of this is undoubtedly due to internal noise reduction, the Alpha 7S III still produces very detailed footage.
Rounding out some of the best features for both video and stills users are dual card slots — both supporting UHS-II SD or CFexpress Type-A, a full-size HDMI Type-A port, USB-C 3.2 Gen 1 Type-C port, Multi Interface Shoe, extensive weather-sealing, and a speedy hybrid AF system with Real-time AF Tracking and 759 phase-detection points that cover 92% of the sensor. It also features Sony's unmatched 9.44m-dot EVF with an enormous 0.9x magnification and a high 25mm eye point.
Best Hybrid Drone: DJI Mavic 3 Pro and DJI Mavic 3 Pro Cine
DJI dominates the consumer and prosumer drone industry, and there's a reason for that: it makes damn good drones. I own the DJI Mavic 2 Pro, which is an exceptional piece of equipment, but I can't lie and say I don't yearn for its successor, the fantastic DJI Mavic 3 Pro, and its slightly upgraded sibling, the DJI Mavic 3 Pro Cine. The Mavic 3 Pro brings tons of new and great features to the table, and most notable are its advancements in photography and videography features.
Up from the Type-1 size sensor in the Mavic 2 Pro, the Mavic 3 Pro's primary camera sports a 4/3 size sensor with 20MP of resolution. A 24mm full-frame equivalent lens sits in front of the sensor, with an aperture adjustable from f/2.8 to f/11. Like the Mavic 2 Pro, this camera is Hasselblad branded and offers the phenomenal Hasselblad Natural Color Solution (HNCS). The Hasselblad branding isn't just a marketing point — the HNCS produces the same natural and highly accurate colors in the company's medium format cameras.
In addition to the much larger sensor, the Mavic 3 Pro adds two new cameras: a 70mm (equivalent) f/2.8 lens paired with a 48MP Type-1/1.3 and a 166mm (equivalent) f/3.4 lens mated with a 12MP Type-1/2 sensor.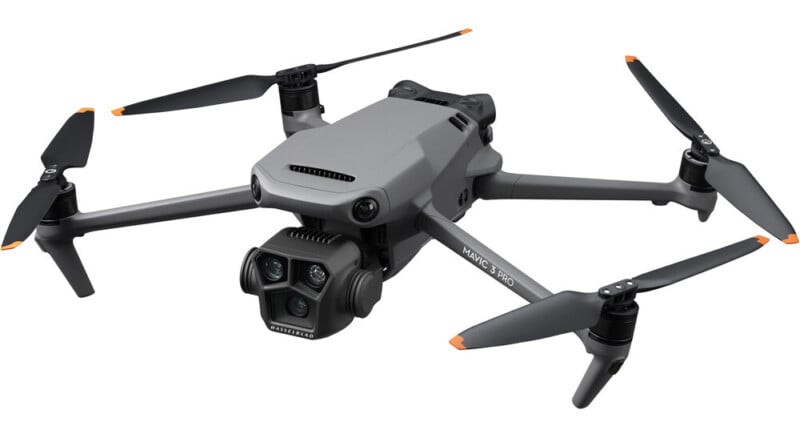 The 24mm camera offers 5.1K video at up to 50 fps in 10-bit 4:2:2 H.265 (H.264 is also available). The Cine version goes a step further by offering 10-bit ProRes 422 HQ (ProRes 422 and ProRes 422 LT are also available). DCI 4K is also on tap at up to 120 fps and 1080 HD at up to 200 fps. The 24mm camera also supports D-Log, D-Log M, and HLG (Hybrid Log Gamma) for those who want to have maximum latitude in post. The 70mm and 166mm cameras offer 4K UHD recording at up to 60 fps in H.264, H.265, and the various ProRes flavors.
Both cameras are rated for 43 minutes of maximum flight time (37 minutes of hovering time), and the maximum horizontal speed of either is 46.98 miles per hour (21 meters per second). They both offer internal memory, with the Mavic 3 Pro sporting 8GB of storage, while the Cine version provides significantly more at 1TB.
For a more thorough review and details about the performance of the Mavic 3 Pro, check out PetaPixel's review of the Cine version.