Brawling at Barbie and the rise of movie theatre misbehaviour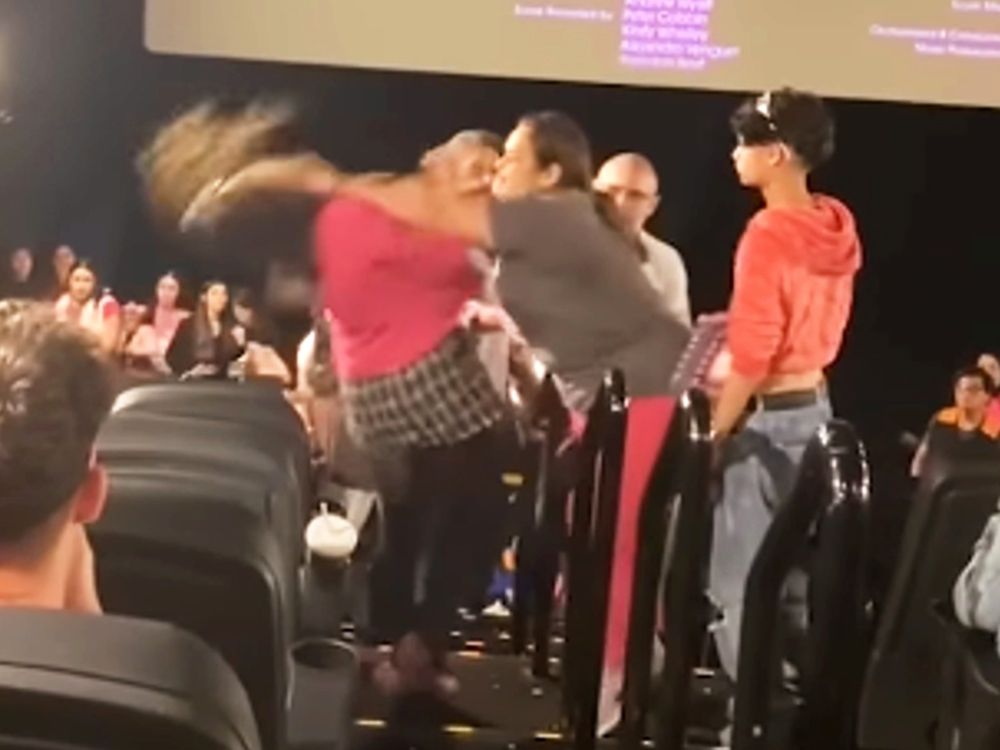 From texting to tweeting to full-on fistfights, the cinema survived the pandemic, only to deal with silver screen scofflaws
Reviews and recommendations are unbiased and products are independently selected. Postmedia may earn an affiliate commission from purchases made through links on this page.
Article content
The idea that the cinema is a barometer of social order really took off during the pandemic, as awkward rules about masking and social distance threatened to undermine the whole experience.
Movie theatres illustrated the wider problems perfectly. The expensive real estate of the downtown multiplex looked like another Blockbuster-scale disaster, destined to go from everywhere to nowhere in a few short years.
Article content
But things turned around, audiences returned to new blockbuster movies, and to judge by the summer of 2023, the pendulum has swung back. Now the problem is not that people don't go to movies. It is what they do when they get there.
Bad behaviour in the movie theatre is everywhere these days.
For example, film and television critic Stuart Heritage wrote in The Guardian that the runaway success of this summer's blockbuster movies, now known together as Barbenheimer, bear much of the blame for attracting people who don't remember how to behave in theatres.
"All these newcomers have clearly forgotten how cinemas are supposed to work," Heritage wrote. "The last few weeks have seen a rash of headlines about a number of regrettable blow-ups that have occurred because people just can't seem to remember the basic rules of cinema etiquette any more."
This summer there was a brawl at a Little Mermaid screening in Florida and a similar ruckus in France at Creed III. In Brazil, a woman who yelled about a child using a phone during a Barbie screening got punched by another woman, and fought back until a manager separated them.
Article content
Fighting in theatres makes for such viral social media content that it starts to look like a trend, promoted if not actually encouraged by technology.
But misbehaviour as simple as scrolling on a phone or posting on social media during the movie also appears to be taking off. Some people are even taking pictures of the screen, with the flash on, and getting roasted for it on Twitter, such as this from the Alamo Drafthouse theatre chain: "Don't take pictures during the movie with the flash on. Don't take pictures during the movie with the flash off. Don't even touch your phone during the movie. Just – just don't. PSA over."
Article content
There is a sociological cliché that blames everything in modern culture on pent-up pandemic energy, from the chaos of leisure travel to the price of luxury goods. People are letting loose in 2023, and there's bound to be friction.
And the summer did offer two archetypical movie options that seem rich with potential for social conflict if this is your first movie in a while: Barbie for the party of friends keen on audience participation all dressed in pink, and Oppenheimer for a more sedate reflection on an auteur's grand production.
But clichés don't go to movies. People do, and they act badly for the same reasons they do outside, only they do it in a unique context with its own special manners.
The moviegoing experience is both private and communal. The cinema is neither as private as a restaurant table nor as communal as a sporting event. Sometimes you sit closer to a stranger than you'd ever be likely to at dinner. Sometimes the whole audience laughs together.
So moviegoers share an experience, but want to keep it private. This is the core tension in many of the present moment of cinema misbehaviour and conflict.
Article content
For example, the writer and social media manager Sophie Vershbow tweeted: "Three adult women were loudly talking during the emotional peak of the Barbie movie and when I told them to shut up they left the theater yelling back at me "some parts of movies are boring!" as if it was justification to carry on a full ass conversation in a public theater."
Article content
Theories that get tossed around to explain all this include internet addiction, and the urge to post about experiences before they are even over. People magazine consulted an etiquette expert who observed that one of the biggest distractions is electronics: "The light from a cell phone is really, really distracting."
Last year, a TikTok trend of showing up to a Minions movie in dark suits was blamed for disruptive behaviour, but that was more of a niche, and part of a long tradition of dressing up in costume to go to movies.
What's happening now is generalized misbehaviour, proving more than anything that movie theatres survived the pandemic. Now, their staff are stuck having to smooth over bad experiences with refunds. Some have enacted a "one-warning" policy before kicking people out for being disruptive, but that is not the norm.
Cineplex, for example, forbids "using any unauthorized recording or communication device," but has no such ban on scrolling through your phone with the screen lit up. Plenty of things are explicitly banned: displaying weapons, smoking, using a hoverboard. But not live-tweeting the movie.
That's the thing with manners. If you write them down, they become rules, and you can't have rules for everything.
Ancient courtship: DNA reveals how Stone Age women left home for love

Justin and Sophie split: How their high-profile political marriage started and ended