How to watch the John Wick movies in order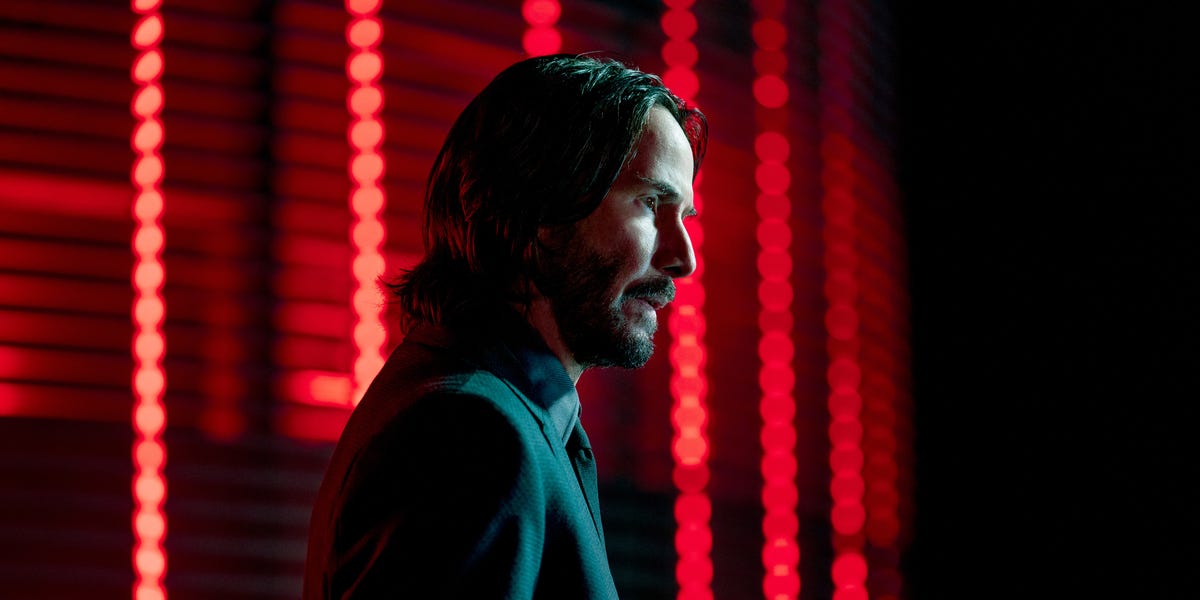 Obviously, it's 1, 2, 3 then 4. But the John Wick franchise has more to it than that, so bear with us.
Keanu Reeves is back on our screens now with John Wick: Chapter 4, which sees the no-longer-retired hitman face his toughest challenge yet.
The celebrated action series has come a long way from the first movie's concise plot — basically, man's puppy is killed, man kills many in return — and has grown into a huge world filled with melodramatic duels at sunrise, a lot of sharp (bulletproof) suits and colourful characters.
John Wick has even become a full-blown franchise with the spin-off movie Ballerina and prequel TV show The Continental to come. Those outings will shift the timeline a bit, but for now, the series has progressed in a simple manner. Easy for anyone who fancies a chronological rewatch ahead of Chapter 4.
In fact, the first three movies take place over a relatively short space of time, so poor John must be knackered. "We figured the first three movies almost happened in like a week, week and a half, somewhere in there," director Chad Stahelski told Collider.
It won't even take you that long to catch up before the epic new movie, and we're here to help with where you can watch the John Wick series online and in timeline order — along with what you need to remember from each chapter so far.
John Wick

Watch now: Prime Video | iTunes | Microsoft Store
Here's where it all began, with John Wick avenging the murder of the puppy gifted to him by his recently deceased wife Helen.
The first movie introduced us to the Continental, run by Winston (Ian McShane) and watched over by concierge Charon (Lance Reddick), along with the rules of this particular world that Wick used to operate in.
However, it mostly just focused on Wick killing a lot of people, including the person who killed his puppy and that person's father, who came after Wick for killing his son.
By the end, Wick has a new puppy.
John Wick: Chapter 2
Watch now: Prime Video | iTunes | Microsoft Store
Just when John Wick thought he was out, a blood oath from his past pulls him back into the world to kill a target… only for Wick to be betrayed by the same person who sent him after the target in the first place.
Cue Wick killing a lot more people and, eventually, breaking the Continental's main rule by killing somebody on its grounds. As a result, Winston is forced to make Wick "excommunicado" — meaning he's totally on his own, with no resources.
The sequel revealed that the High Table, a shadowy group of crime bosses, is in charge of everything. Wick's actions in the sequel are what eventually lead to him becoming a long-lasting target of the High Table, which comes to a head in Chapter 4.
For now, Winston gives Wick a headstart of one hour and he makes a run for it given he's got a pretty hefty price tag on his head.
John Wick: Chapter 3 – Parabellum
Watch now: Prime Video | iTunes | Microsoft Store
If you thought John Wick had already killed a bunch of people, then the third outing of the series takes it to another level.
On the run after the events of Chapter 2, Wick has to kill and kill and kill again to survive. He enlists the help of former allies like Sofia (Halle Berry) and the Bowery King (Laurence Fishburne) along the way, which also leads to them crossing swords with the High Table.
Wick is eventually presented with a High Table proposition to kill Winston — who annoyed the High Table for helping Wick — in return for their forgiveness. Wick and Winston refuse to do the High Table's bidding, which leads to the Continental becoming 'deconsecrated', meaning hitman business can happen on its grounds.
Unsurprisingly, Wick kills a bunch of people to protect Winston (and himself). However, Winston appears to double-cross Wick and shoot him, leading to Wick falling off the roof of the Continental.
He's not dead, though — it would take more than that to kill Wick. The Bowery King offers Wick sanctuary and the two agree to team up to take down the High Table once and for all.
John Wick: Chapter 4

Watch now: Cinemas
It all leads us to the fourth movie, which sees John Wick attempt to get his life back and win his freedom from the High Table.
We won't spoil anything here yet, but it's not a spoiler to say that, yes, Wick again kills a bunch of people along the way.
Luckily, he's had a bit of a breather since Chapter 3, as Stahelski told Collider that the new movie is set "six months later".
John Wick: Chapter 4 is out now in cinemas.