Paris Performers' Theatre's season has been put on pause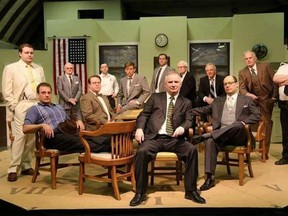 Article content
"The Rocky Horror Show," the first production of the Paris Performers' Theatre's upcoming season, was already cast and scheduled to open on Oct. 26.
Article content
Then the board of directors realized the rights to the show hadn't been secured.
Article content
By the time they became aware, the publisher had put a moratorium on the rights to the play because it's the 50th anniversary, said Martin Smith, who took over as president of the board of directors in June after two members left for personal reasons.
But that was the least of their problems, because once they dug deeper, they realized the community theatre was in financial trouble, Smith said. "We did not have the funds to secure the rights, even if we were able to," he said.
Smith said it seems the last several shows "were really not making money at all," and as a result, several vendors went unpaid.
This is why last month the theatre company announced the full cancellation of their 2023-24 season through their Facebook page, and started a GoFundMe campaign to help raise funds to pay their outstanding bills.
Article content
While they quickly surpassed their initial fundraising goal of $5,000, Smith said the campaign will stay up for the remainder of October, and they're planning a couple of fundraisers in November to help the company "get the coffers back up to a reasonable level," he said.
The company is now in the process of undergoing a financial audit to get a full understanding of how they found themselves in their current situation.
Even though the community theatre is entirely run by volunteers, there are still considerable expenses. The rights to perform the play alone can run from around $80 to $150 a night, depending on how well-known it is, said Smith.
On top of that, there are rental fees for the storage, rehearsal and performance spaces, and costs like lumber for set construction, and printing for scripts, posters and programs.
Article content
While Smith said the company has qualified for grants through the years, and received support in the way of local sponsorships and in-kind donations, they typically depend on ticket sales to help cover expenses.
Moving forward, he said, "We basically want to look at it that we could put two shows on in a row and not make one penny and still we would pay the bills," adding that the theatre company itself isn't going anywhere. "It's a pause more than anything," he said.
The next annual general meeting is Oct. 23 where they will determine next steps, Smith said.
For several decades, the company — which functions as a not-for-profit — has been a fixture in the county, and has been recognized with multiple awards and nominations as a long-standing member of the Western Ontario Drama League.
Article content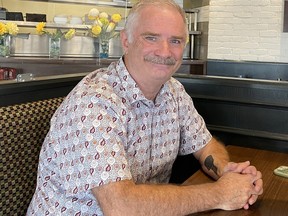 They've staged well-known productions, like "Godspell" and "The Odd Couple" at The Paris Fairgrounds, and new shows, like Smith's pandemic play "Baby Zoomers 2: An Isolated Comedy."
Many of the shows have even inspired audience members to get involved, as was the case with Heather Ashby.
She joined the company's original board — more than 30 years ago — after she was "blown away" by the quality of the set, lighting and talent in the first production she saw.
"It made me want to become part of it," she said, "And I think that's what community theatre does, it engages people to want to become involved."
Even though they're not getting paid, the commitment locals make to community theatre is significant — usually a couple of rehearsals a week for several months, moving up to nightly rehearsals in the lead-up to opening night, Smith said.
Article content
Locals have a hand in everything, from acting and directing, to set building, hanging the lights, running tech and stage managing. Even the stage needs to be assembled by volunteers every time they do a production. "It brings a community of a lot of different people together," said Ashby.
"It's so unfortunate that we've had to put our season off, but this just means we'll come back stronger," she said. "People in this very small town are really rallying for us."
Celeste Percy-Beauregard is a Local Journalism Initiative reporter based at the Hamilton Spectator. The initiative is funded by the Government of Canada.