Saskatoon bluegrass band The Local Group plays Broadway Theatre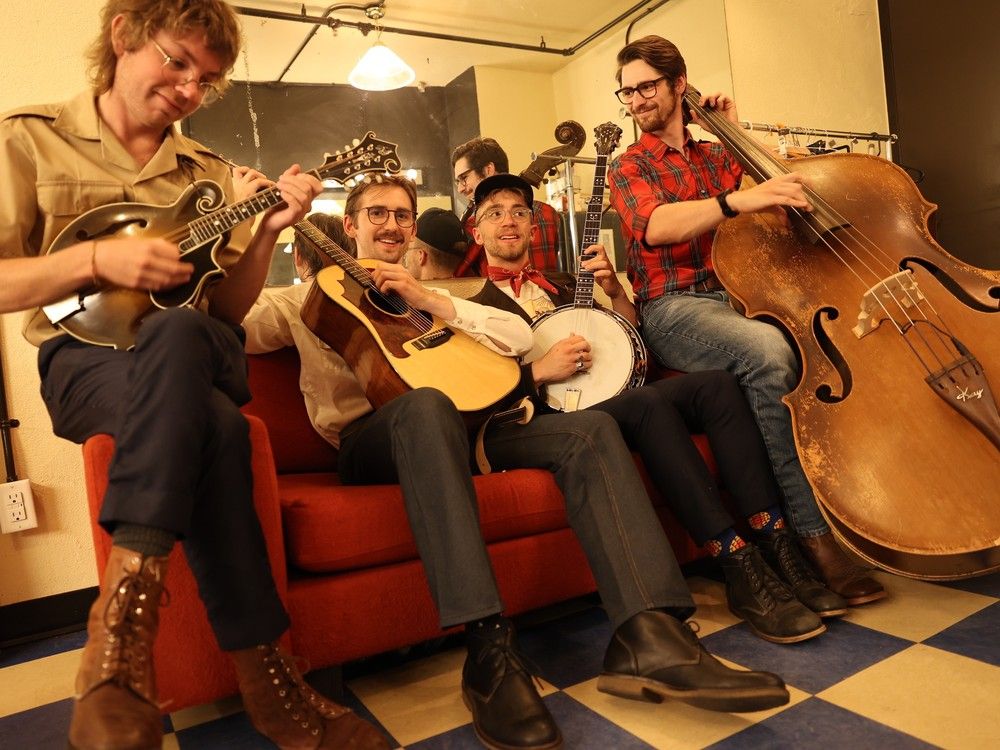 Saskatoon bluegrass band The Local Group plays the Broadway Theatre June 14 at 7:30 p.m.
Reviews and recommendations are unbiased and products are independently selected. Postmedia may earn an affiliate commission from purchases made through links on this page.
Article content
Saskatoon bluegrass band The Local Group shares an intimate night of acoustic music at the Broadway Theatre on Wednesday night.
Article content
On the heels of their latest album, The Local Group Live at the Bassment in Saskatoon, the band is performing for the first time in the iconic theatre. Guitarist Clayton Linthicum of folk duo Kacy and Clayton opens the show.
Article content
"This is the next logical step in terms of progression as a band in Saskatoon. We're playing bigger venues," said mandolinist Justin Vilchez.
Vilchez and banjo player Jaxon Lalonde chatted with the StarPhoenix before the show.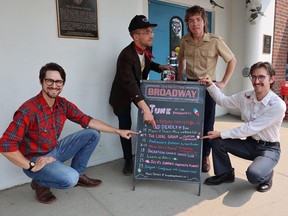 Q: What inspires your unique brand of bluegrass music?
Lalonde: We all have fairly similar music tastes, but also we all diverge a little bit. I write a lot of the songs for the band and a lot of my inspiration is from classic country and even hip hop and punk. I listen to all kinds of music and it all comes out in my songwriting.
Article content
Vilchez: We find the middle ground between Jaxon's sometimes extremely weird music tastes and really out-there songwriting, and then also — I mean, I can speak for myself — really liking traditional bluegrass music. And so trying to blur the lines between paying homage to the roots of bluegrass music and also taking it in new directions.
Q: What does playing the Broadway Theatre mean to you?
Vilchez: We've seen a lot of our favourite acts there. A lot of touring artists come through Saskatoon and play at the Broadway Theatre. So it's a source of inspiration to see such good quality music up there. It's kind of a landmark event for the band, I guess, to finally consider ourselves on that same level.
Q: What are you looking forward to with Clayton Linthicum opening for your show?
Article content
Lalonde: He doesn't usually perform solo, and his solo stuff is really great. He's such a good guitar player.
Vilchez: There's a lot of people around the world that know Clayton Linthicum as a guitar player and his unique style, that really admire him. And we really quite admire him as much as we are friends with him. It's great to have such a good musician as a friend.
Q: What do you hope the audience takes from your music?
Vilchez: I think a big part of what The Local Group is trying to push is that bluegrass music can be really hip and cool with younger generations. As much as we love our older audiences and appreciate the crowds that are already really into bluegrass music, we're really just trying to get more younger crowds into it and get people hip to the beat that bluegrass music can be new and it's not irrelevant music.
Article content
Lalonde: I also just want to play a good show and have people come up being like, 'Oh, I had a good time and I'm glad I went to the show.' I don't think you have to already be into this kind of music to show up and have a good time and enjoy it.
This interview has been edited and condensed.
Saskatchewan Jazz Festival announces 2023 lineup for ticketed shows

Shakespeare on the Saskatchewan prepares 2023 summer season

Saskatoon country musician nominated for national Indigenous music award
Spring subscription sale: Our in-depth and latest news journalism is possible thanks to the support of our subscribers. For a limited time, you can get full online access to The Saskatoon StarPhoenix and The Regina Leader-Post, along with the National Post and 13 other Canadian news sites, for just $40 for one year or $1 a week for 52 weeks. Support our journalism by subscribing today: The Saskatoon StarPhoenix.