The List: Edmonton goes pop for Edmonton Expo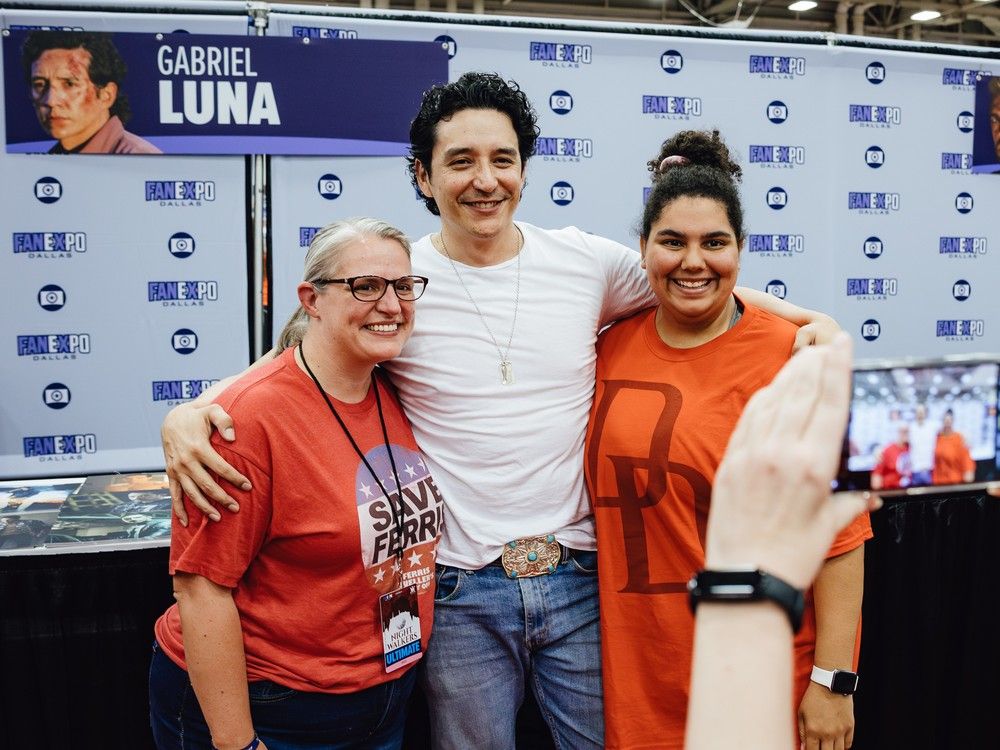 Article content
Edmonton is poised for a pop-culture explosion this weekend.
Celebrities including Gabriel Luna from The Last of Us, Breaking Bad's Giancarlo Esposito, John Rhys-Davies of Lord of the Rings fame and more will be mingling with thousands of fans at the Edmonton Comics and Entertainment Expo.
Article content
From anime to cosplay, voice actors to leading stars, art sessions and shopping booths, there will be entertainment and exclusive opportunities for photos and autographs for fans starting Friday and running through Sunday at the Edmonton Expo Centre, 7515 118 Ave.
Article content
11/9-11: Broad View International Film Festival (Metro)
MUSIC
9/14: Mr. ESQ & Details, Terell Safadi (Starlite)
9/14: Belvedere, The Devils Sons, Regal Foul (Buckingham)
9/15: Barbie Rave (Midway)
9/15: Doreen, Stem Champ, Pallor, LN Baba (Aviary)
9/15: WAKE, Power of Evil (Temple)
9/15: Whale and the Wolf (Starlite)
9/15: Alfie Zappacosta (Spotlight Cabaret)
9/16: Metta Grove: Visionary Art Concert (Citadel)
9/16: Dax (Midway)
9/16: Alexis Normand, Burnstick (Aviary)
9/16: Rising Sun, Illyrian (Temple)
9/16: Sparrow Blue, Dead Levee (Starlite)
9/17: Black Pestilence, Citizen Rage (Temple)
9/19: U.S. Girls (Starlite)
9/21: Jinjer (Midway)
9/22: King (Midway)
9/22: Christine Hanson, Charlie McKerron, Jonny Hardie (Muttart Conservatory)
9/23: Bez Obmezhen (Union)
9/23: Beast In Black (Starlite)
9/23: Half Dead, Man Meat, Open Eyes (Aviary)
9/23: Richard Inman, Zachary Lucky (NLFC)
9/24: Bonnie Raitt, Royal Wood (Jubilee)
9/24: Destroyer, Wayfinding (Starlite)
9/24: Vaughan and Friends Quartet Fest 2023 w/ Josephine van Lier (Holy Trinity Anglican Church)
Article content
9/27: Ariel Posen (Starlite)
9/27: Nightmares on Wax (Starlite)
9/29: Hamdi and Sicaria (Starlite)
9/29: Raffa Fl, Miishu, Don Juan, Bangerz (Chvrch of John)
9/30: Iron Maiden (Rogers)
9/30: Apollo Suns, Purple City Disco, The Static Shift (Aviary)
10/1: Barnes Courtney (Midway)
10/1: Mico (Starlite)
10/2: Avatar (Midway)
10/5: Daniel Caesar (Rogers)
10/6: Jack Botts (Temple)
10/7: Don Berner Big Band (Triffo)
10/7: D.O.A., Isolated Earthlings (Starlite)
10/7: Wilf Kozub (Trinity Gallery)
10/8: Altameda, Small Paul (Starlite)
10/10: Begonia (Starlite)
10/12: Elliott Brood, Shred Kelly (Starlite)
10/12: Godsmack (Rogers)
10/12: Skid Row, Buckcherry (River Cree)
10/12-23: Bill Eddins plays Bach (Winspear)
10/13: Wu-Tang Clan, Nas (Rogers)
10/13: Bell Witch, Spirit Possession (Starlite)
10/13-14: Tim Tomashiro Salutes the Rat Pack (Spotlight)
10/14: Randy Bachman (River Cree)
10/14: Tyler Hubbard (Midway)
10/17: Boy Golden (Starlite)
10/18: Fefe Dobson (Starlite)
10/19: Protest the Hero, Moon Tooth (Starlite)
10/19: Guns N' Roses (Rogers)
Article content
10/26: Folsom Prison Revisited (Jubilee)
10/26: Dope Lemon (Midway)
10/27: Cooper Alan (Midway)
10/27: Billy Talent, GOB, Calling all Captains and DJ Kwake (River Cree)
10/31: Ne Obliviscaris (Starlite)
11/3: Roy Wood$ (Union)
11/4: Moontricks (Midway)
11/6: Half Moon Run, Billie Marten (Midway)
11/6: Bruce Springsteen (Rogers)
11/8: The Beaches (Midway)
11/9: Portugal. The Man, Good Kid (EEC)
11/9: Fionn (Temple)
11/10: KISS (Rogers)
11/11: Tom Cochrane, Trooper, Sass Jordan (EEC)
11/11: The Tea Party, I Mother Earth (Midway)
11/12: Shania Twain, Tenille Townes (Rogers)
11/12: Loreena McKennitt (Jubilee)
11/12: Vaughan and Friends Quartet Fest 2023 w/ Don Ross (Holy Trinity Anglican Church)
11/14: Jonas Brothers (Rogers)
11/17: The Glorious Sons, The Blue Stones (Rogers)
11/18: Skinny Puppy (Midway)
11/21: Depeche Mode (Rogers)
11/22: Charlotte Cardin (Midway)
11/23: The Cat Empire (Midway)
11/23: Monowhales (Starlite)
11/24: Le Youth (Chvrch of John)
11/24: Big Wreck (Midway)
11/26: Dan Davidson, Five Roses (Starlite)
11/27: Meshuggah, In Flames (Midway)