Local family keeps drive-in movie theatre alive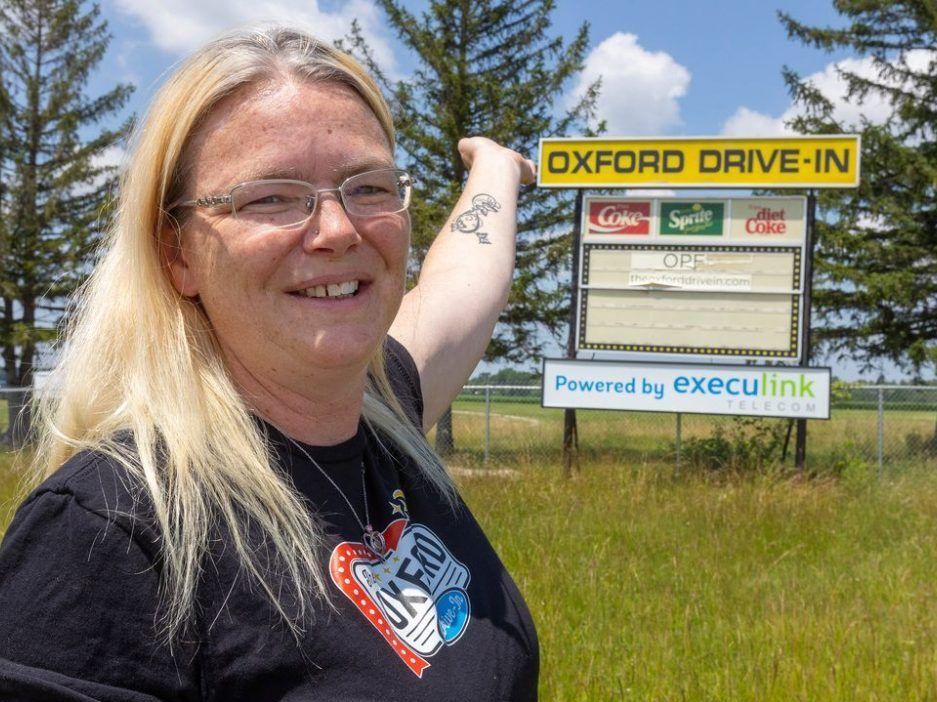 Article content
It's only been a month since Katherine Hay became the new owner of a Southwestern Ontario drive-in movie theatre, and already she's on top of the world.
Article content
"I think this is the happiest I've been in a really long time," she said.
Article content
The mother of three and her husband Bob are the new owners of the Oxford Drive-In Movie Theatre, which had its grand opening over Canada Day weekend.
Located along Highway 2 between London and Woodstock, the single-screen drive-in opened in 1950 with the movie Life with Father. Retired businessperson Al McKay managed the outdoor theatre, drawing viewers from across the region every weekend, until it closed around 2013.
For Hay, who grew up in Oxford County, the theatre holds many childhood memories.
"I lived across the street from (AL McKay), and I grew up with his children, so we used to go out to the drive-in a lot," she said.
The theatre sat vacant for years until new owners, an area couple, bought and restored the business in 2020, offering a safe space for moviegoers to enjoy entertainment during the pandemic.
Article content
Then, one day in March, Hay was scrolling online when she learned the theatre was for sale again.
"My brain just went, 'Well, talk to my husband about it. See what he says. And you know what? Why not give it a whirl,'" she recalled.
With her kids – ages 13, 14 and 19 – in school, Hay said she had more time on her hands and figured: "Why not do something for me now?"
Hay said she and Bob bought the business in June after long talks, thinking "We can't let it not stay alive." A bonus was that their family loved going to the drive-in, a much cheaper option than the movie theatres when raising three kids, she noted.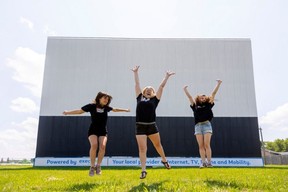 Reception to the news of Hay's family taking over has been "tremendous" in recent weeks, she said.
"I'm shocked every day when I get (messages saying), 'Congratulations.'"
Article content
Running the business, however, is a family affair. Hay has two cousins helping out, and her three kids contribute when they can.
"I'm pretty excited that I get to actually do something with my summer and help, not just at the house but somewhere else," said her 13-year-old daughter Megan.
Hay's even called in reinforcements from out east.
"I have another family member coming from New Brunswick. I said, 'I need help. My house is a disaster. I can't even focus on the house for five minutes … come help me,'" she recalled with a laugh.
"I'm so lucky for the amount of support I've had."
The Oxford Drive-In screens classics such as Indiana Jones and Guardians of the Galaxy and serves various drinks and snacks, including candy, chocolate, popcorn, hot dogs, poutine and nachos.
Article content
While the theatre is running seven days a week, Hay said plans are in the works to give it more life, including rebuilding the concession stand and adding a playground.
"The biggest thing for me is the playground, because if I'm going to open the gates at 7 p.m., you want those kids there, playing and having fun."
Tickets start at $15 for each adult but change depending on the number of people and kids in a vehicle. They can be bought in-person or online at www.theoxforddrivein.com.
The lot can fit up to 400 cars, but Hay said she'd be over the moon with just half the amount.
"If I could get, on a good weekend, 200 cars or more, I would be ecstatic. Then, I'd know I did something right."
The Local Journalism Initiative is funded by the Government of Canada
PHOTOS: Johnny Cash, London and the making of a downtown mural

Fun in the sun: TD Sunfest hits stride under blue skies